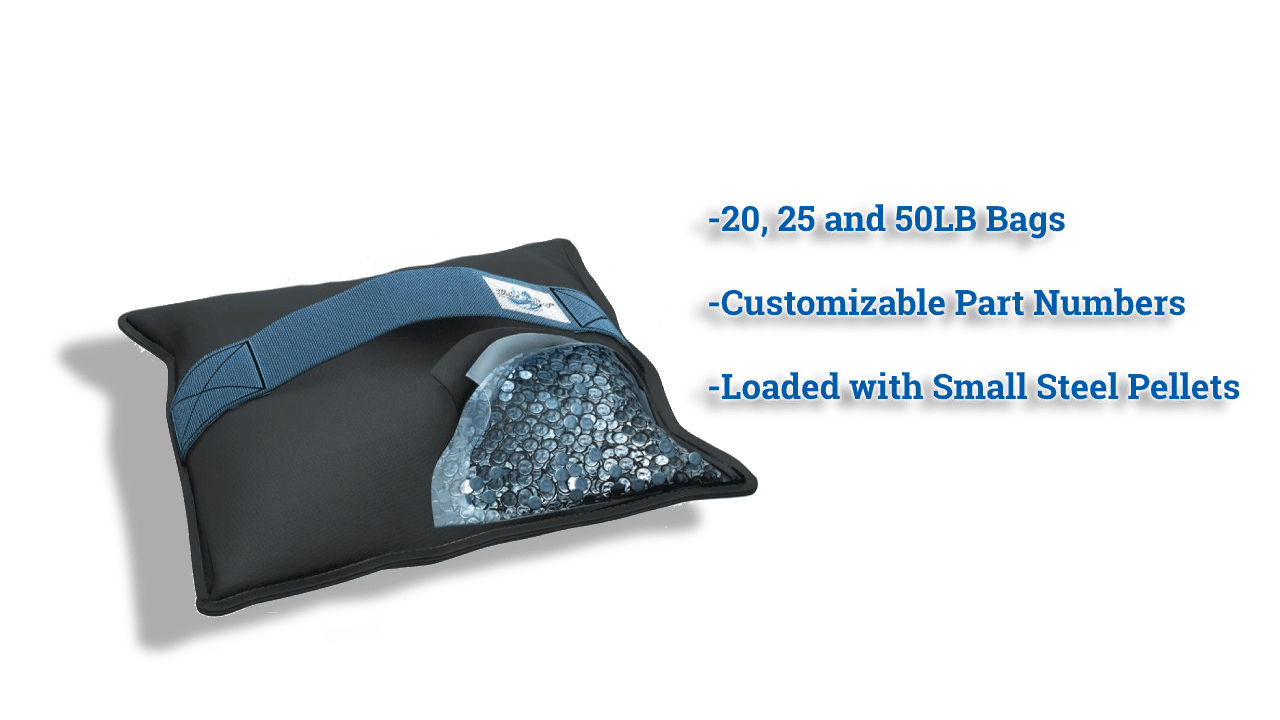 Test Weight Bags
May 8, 2020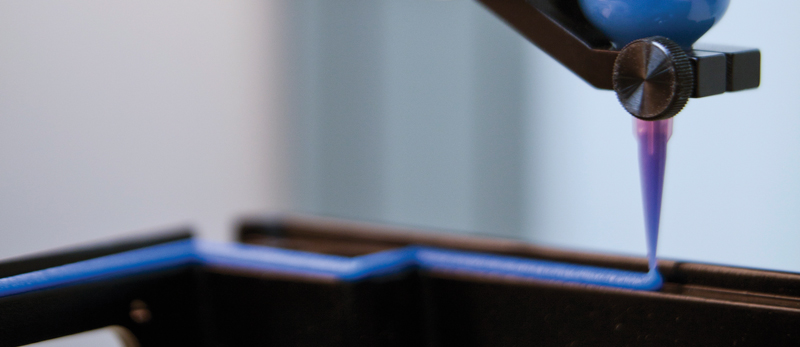 Properties of Thermal Interface Materials
May 15, 2020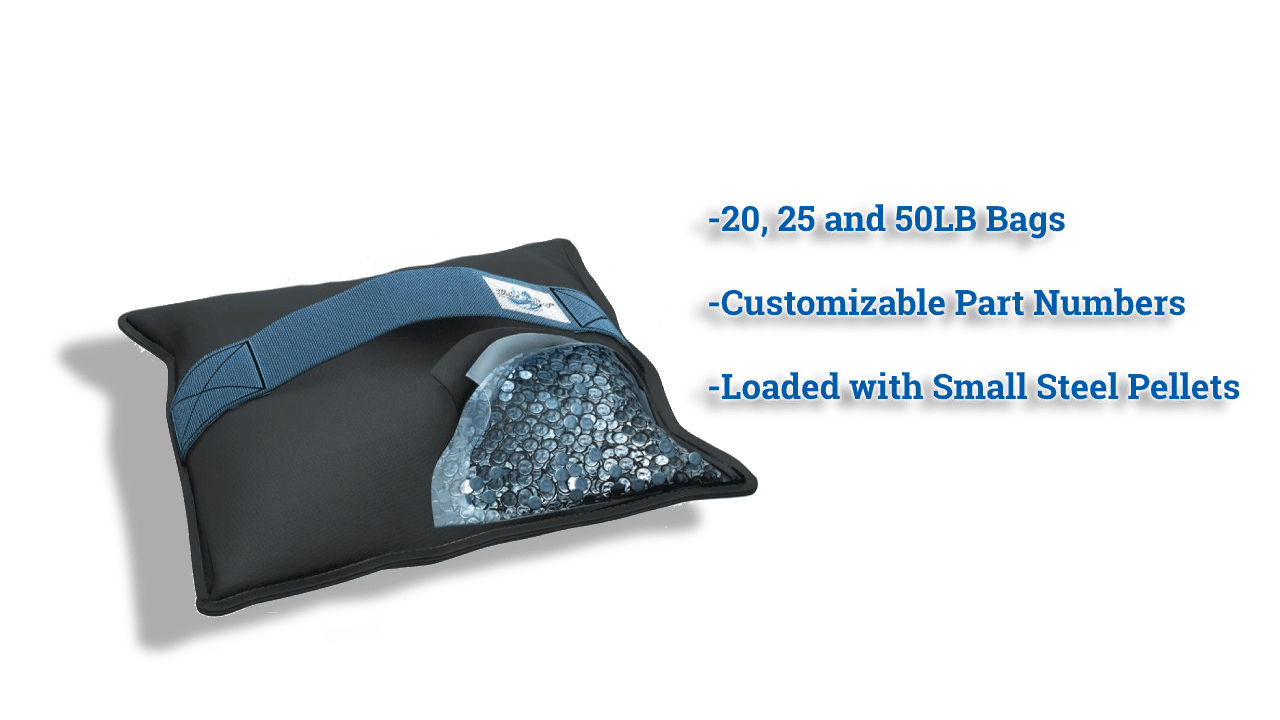 Test Weight Bags
May 8, 2020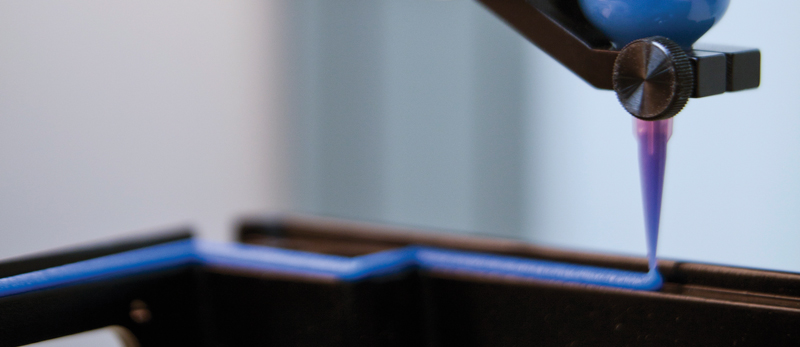 Properties of Thermal Interface Materials
May 15, 2020
Why use Thermal Interface Materials?
The surface of a heat sink and it's area that it's cooling are never perfectly flat. There is a wide range of Thermal Interface Materials to close the gaps that exists between the two surfaces. Thermal Interface Materials are important to the design because air conducts heat poorly. If you leave gaps, your heat sink will not be as effective. Look at the image below. If the area is left with a wide open gap, all the heat has to dissipate through only a few contact points. When you fill in those gaps, it allows the heat transfer through more area. This increases the effectiveness of your heat sink. L
Choosing the right Thermal Interface Material depends on a few factors. Is the point to fill the gap? Is it to help adhere the heat sink? Is it just to aid the heat sinking application? Choosing the right material may rely on the properties of that material.
There are so many different ways to approach these applications and many materials available. This guide will just give a few brief descriptions of material options. These options are provided by our partner Parker Chomerics.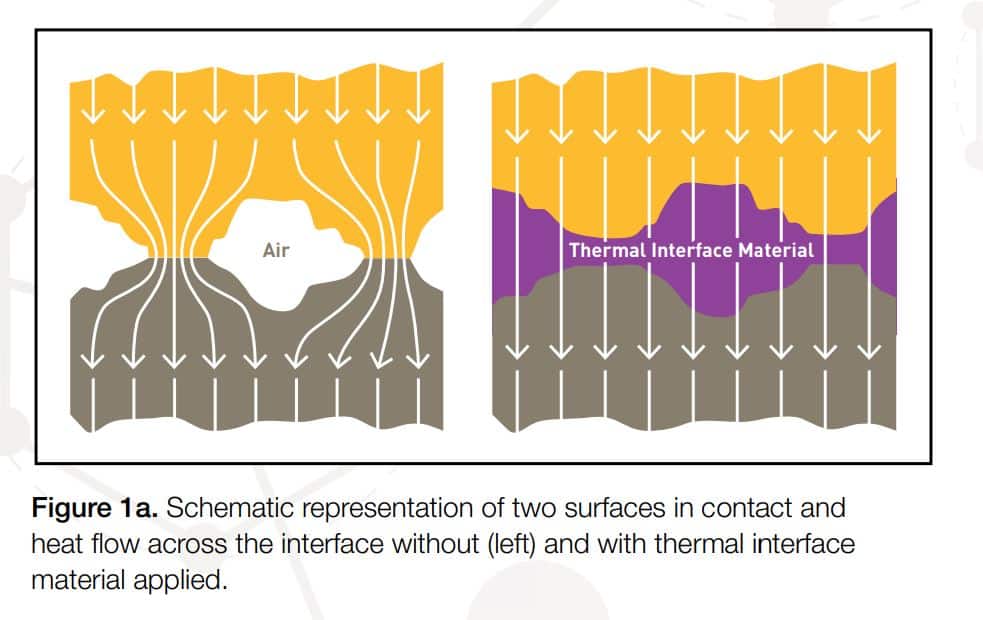 Thermal Interface Material Choices
Gap Fillers
Gap Fillers come in two different types, gels and pads. Gels are low-closure-force, electrically isolating, fully cured materials that are dispensed into place. Gap filler pads are low closure force thermal pads designed to accommodate a wide gap range and electrical isolation.
Phase Change Materials
Phase Change Materials are thin pads that are placed between a heatsink and the IC chip that then change phase into a liquid at higher temperatures to achieve a thin bond line for better thermal performance. Poly solder hybrid (PSH) materials consist of both binder and fillers which both change phase.
Thermal Tapes
Thermal Tapes have adhesive on both sides to hold a heat sink in contact with an IC component.
Potting and Underfill Materials
Potting and Underfill Materials are one- or two-component materials that are dispensed and then cured in place afterwards (unlike thermal gap filler gels, which are already cured when dispensed).
Dielectric Pads
Dielectric Pads are higher-closure-force pads specifically designed to be electrically isolating, also known as a dielectric, as well as being thermally conductive. Dielectric pads are typically used on power transistors that have an electrically energized base that will short out if made to directly contact a metal heat sink.
Heat Spreaders
Heat Spreaders utilize two different vehicles of thermal transfer: conduction to pull heat off an integrated circuit, and convection to use air flow over the product to remove that heat from the assembly.
Thermal Greases
Thermal Greases are silicone-based pastes with a thermally conductive filler material meant to draw heat away from a heat-generating component on a circuit board while filling very thin bond lines.
Learn More
If you'd like to learn more about Thermal Interface Materials like Gap Pads, Fillers, or Tapes; please feel free to contact an Application Engineer at (602) 437-1532 or email us at info@stateseal.com.